Here is the continuation of my Top 10 places to visit in Montreal, made following my stay in this beautiful city in September 2022.
Find the first part here, with Mount Royal, Old Montreal, the Lachine Canal, the Saint-Hélène and Notre-Dame Islands, the Botanical Garden / Olympic Park / Biodôme.
6 – Museum of Fine Arts
For art lovers of all eras and styles, and of all its forms, the Montreal Museum of Fine Arts is a must.
Founded in 1860, the Montreal Museum of Fine Arts is dedicated to promoting Canadian and international art. Its collection has more than 43,000 works.
The particularity of this museum is to occupy five buildings (pavilions) from different periods, linked together via a network of underground passages.
I really did not expect such diversity in the collections of this museum, and such a beautiful place. I devoted an entire day of my stay to it! I had only planned to spend a few hours there.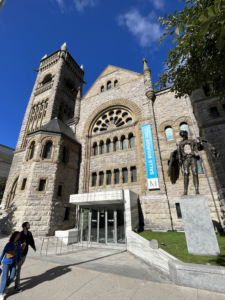 There is a great contrast between the interior architecture of the different pavilions, the oldest is very classic (columns, woodwork, large staircases, etc.), and the others are very modern and refined, in particular the very last, the Pavilion of Peace. Built in 2016, it is made of concrete, wood and glass.
The main entrance is at 1380 Sherbrooke Street. It is not possible to enter the other buildings directly.
We arrive directly in the Jean-Noël Desmarais pavilion, built in the early 90s, very sleek and modern. It has several levels connected by stairs with almost flat steps, it is quite confusing but visually beautiful.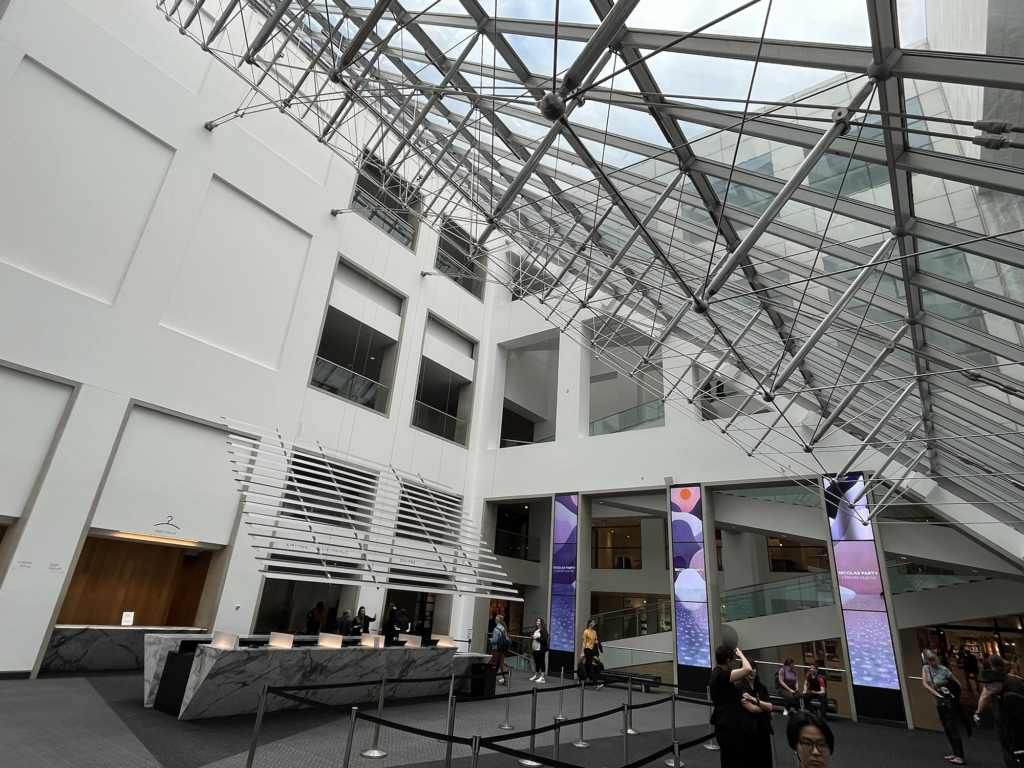 Above all, do not hesitate to get the map of the museum at the entrance and take a look, otherwise you risk missing the visit of certain rooms.
In terms of artistic content, the first part of the museum presents works from the period of Romanticism (18th century) to contemporary art in a chronological manner. A large room honors the Impressionists (Renoir, Monet, Degas, Cézanne…), with mainly paintings but also a few sculptures, such as a lovely sculpture by Renoir alongside Rodin's famous "Thinker".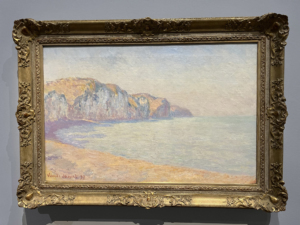 We then move forward in time with Matisse, Miró, Picasso, Modigliani, Dalí … then we enter Pop Art with Basquiat in particular, and contemporary art with Soulages, Vasarely … A very beautiful journey through several centuries of art, never boring, with good explanations about the main works. There are also works by American and Canadian artists.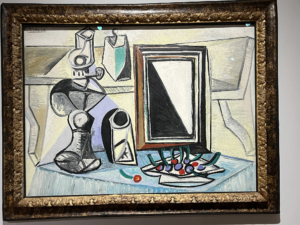 Arriving in the Pavilion of Peace, accessible by going to the back of the main pavilion, we take a leap back in time and discover masterpieces from the Baroque and Rococo eras, French, Italian and English schools from the 17th century. and 18th century.
It's a great discovery, the works are superbly displayed, highlighted and well explained. In one of the rooms, there is a small central section dedicated to the Emperor Napoleon 1st, with objects related to the emperor such as hair, a hat, gloves and a boot that belonged to him! They were brought together by a passionate private collector of Napoleon.
Level 3 is linked to Dutch painting, with in particular Portrait of a young woman by Rembrandt. Unfortunately, it was under construction and closed at the time of my visit.
Level 4 takes us back in time to the Middle Ages and the Renaissance, with additional paintings, period architectural models and stained glass windows.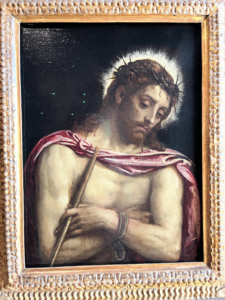 We then manage to get to level -2 to cross the street through the basement and access the historic museum building.
Several rooms are to be discovered through this underground passage, in particular a room with monumental contemporary works (eg Calder's mobiles).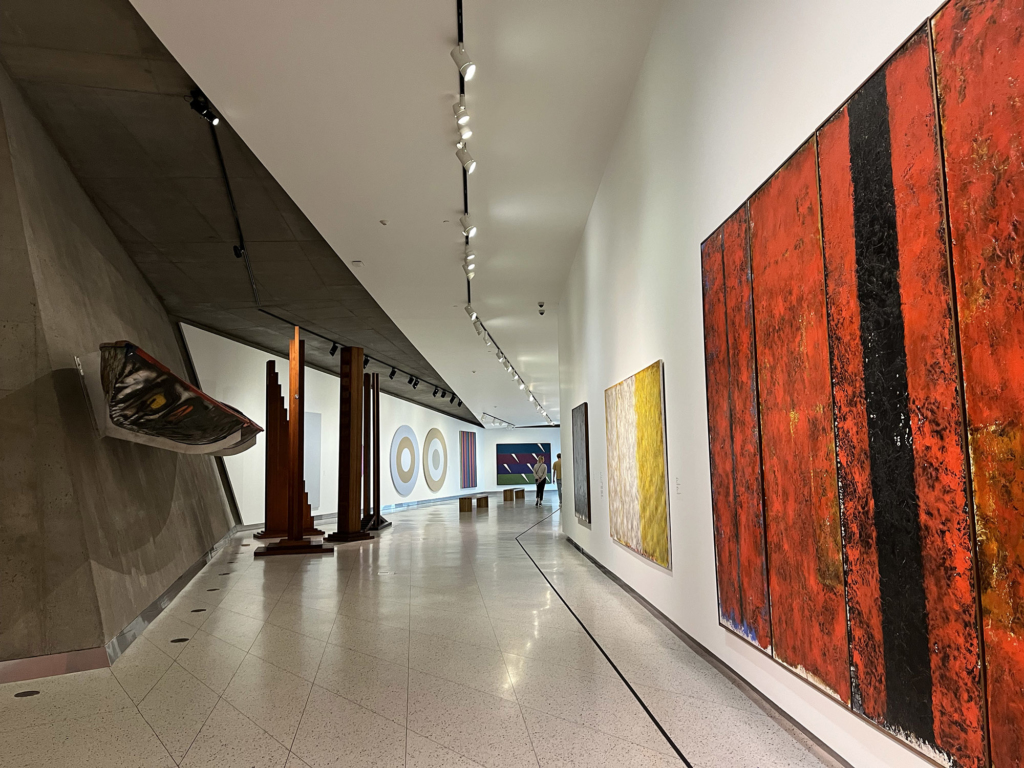 Arrived in the "historical" museum, we begin the visit with a section dedicated to Decorative Arts. This is very extensive and is present in all kinds of furniture with whimsical, kitsch and/or modern designs. There is no chronological order: the different styles and eras confront each other, that's fine!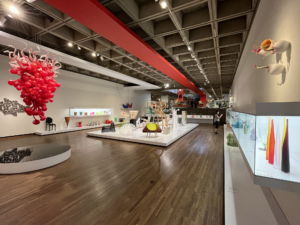 This space is very large, it is on several levels but completely open with a system of glass passages.
The layout of the museum on five buildings being quite complex, after a few wanderings and consulting the plan, I arrived in a building housing works more related to archeology and world cultures.
Very rich and surprising, there are many pieces of:
Mediterranean Archaeology: Antiquity, Greek, Egyptian, Middle Eastern Art
The Art of the Americas
Asian Art
African and Islamic Art
We really travel the world and history by visiting the rooms of this pavilion, it's magic. The pieces are really beautiful: Egyptian sarcophagus (with mummy), African and pre-Columbian statues, samurai outfits, vases from Greek antiquity, etc…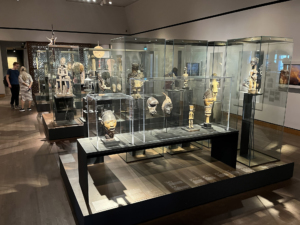 You will also find in the museum several sections for temporary exhibitions, at the time of my visit in September 2022, there were 3!
An exhibition of black & white photographs by Diane Arbus, an exhibition of "immersive" works by Sheryl Boyle, and the one that occupies the most space and for me the most impressive: an exhibition of works by Nicolas Party.
I did not know this contemporary artist (born in 1980), a real nice discovery!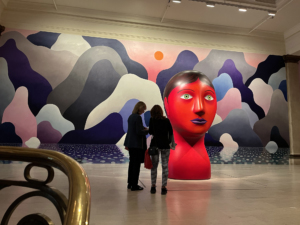 I am sure that whatever the time of your visit, beautiful temporary exhibitions will be waiting for you. In 2000 I did the Renoir-Picasso exhibition, I still remember it very well.
In terms of time, visiting the entire museum can take all day, but if you target what you want to do by consulting the map on arrival, you can be satisfied with spending two or three hours there.
It is possible to visit part of it in the morning and then come back in the afternoon after eating, because the ticket is for the day. Be careful though, the museum closes at 5 p.m.
I will add to finish that the place is very pleasant, airy, the works have space and are not crowded against each other… If in addition you manage to visit it at a time when there is no not too crowded, you will have a much more peaceful time than in some crowded and sometimes a little too dense Parisian museums.
Adult admission costs $24 CAD.
Speaking of expenses: the shop in this museum is the most beautiful I have seen in a museum! It is as rich, well presented and pleasant as the museum itself.
7 – Plateau Mont-Royal
Ah the houses of Plateau Mont-Royal! I spent a lot of time exploring this 8 km² borough of Montreal located at the foot of Mount Royal, either with my Bixi bike, or on foot for its emblematic streets.
Located near the city center, you will not find the buildings of it.
Let's start with the residential part first. The prettiest houses in Montreal are arguably located on the streets of the "Plateau". None are strictly identical, but have the common point of having exterior stairs.
There are two reasons for this: from the 19th century, houses in Montreal had to be set back to leave a green space in front. To save some space, we built the stairs in front of the house!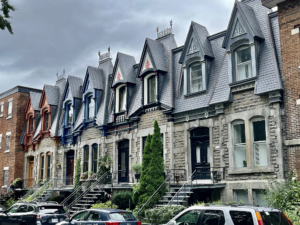 The second reason is that in winter, it is not uncommon for there to be 2 to 3m of snow in front of each house. Entrance doors can therefore hardly be located at ground level.
Who says stairs says doors. We therefore find on the facades of these houses many doors, sometimes much more than windows!
These beautiful houses are often also decorated with balconies.
Regarding architecture, without being an expert in this field, I was able to recognize mixtures of Victorian, neo-colonial, a little Art Deco and Art Nouveau "Belle Epoque"!
Lots of little details are often hidden on the facades of the houses on the "Plateau": friezes, turrets, railings, stained glass windows… So take your time to admire them!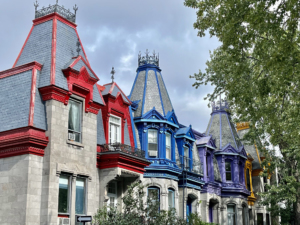 I will almost forget to mention the streets: they are very green, and very shady! Indeed, there are many trees in front of these houses, we sometimes see very little of the sky when we walk there!
In some streets, there are beautiful cycle paths well separated from cars, but this is not the case in all. A map of Montreal's bike paths is available at the tourist office, otherwise Google Maps indicates them very well (solid green for "real" tracks, dotted green for streets with non-isolated bike lanes).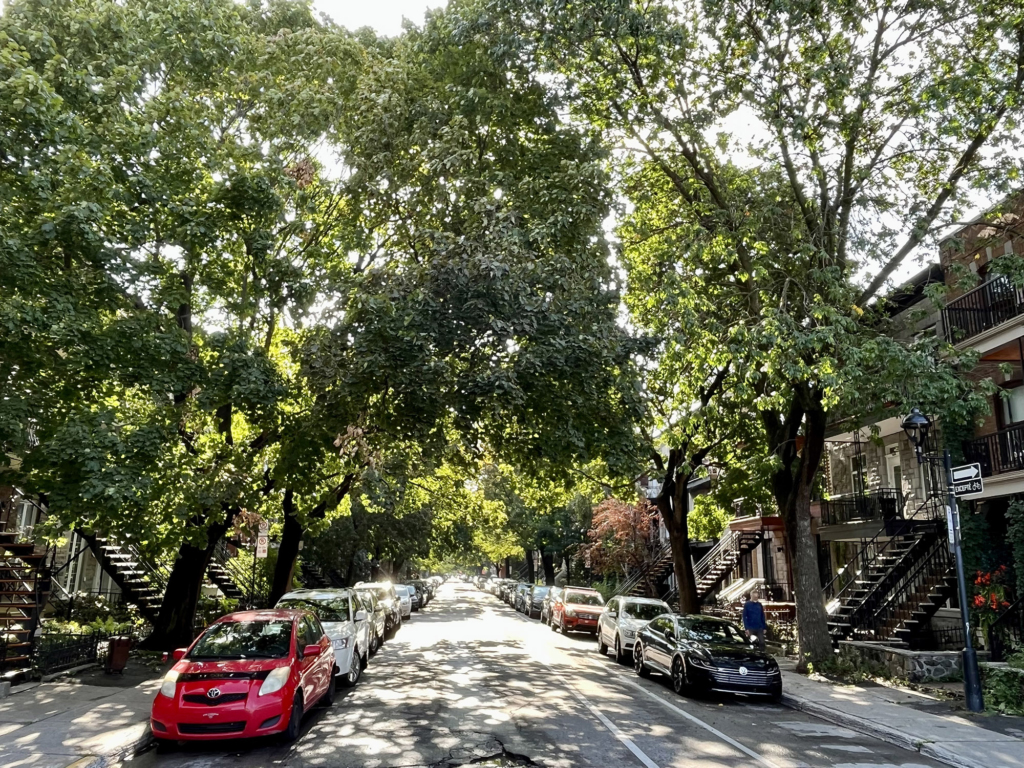 There are many parks in this district, the largest being Parc La Fontaine, which has a large artificial pond. The others are Jeanne-Mance Park (sports oriented with beach volleyball, tennis, soccer (football) and baseball courts), and Laurier Park.
The common point of these parks: the squirrels of course! After a week you don't even notice them because there are so many everywhere. A joke told to us by a Quebec guide: "How do you recognize a Frenchman in Montreal? He takes pictures of squirrels"/
Finally, pass by "Plateau" the most emblematic streets of Montreal.
There you have to put down the Bixi and walk through them (at least in part): stroll through the shops, choose your restaurant for lunch or dinner, listen to and observe all the little details of life in this district.
Here is the list of these streets and their description, beyond the Plateau Mont-Royal.
Avenue Mont-Royal
A very busy, busy, colorful and lively street … There are many bookstores, vinyl shops, delicatessens, cafes, terraces, lively bars, bakeries, "vintage" shops, thrift stores and restaurants.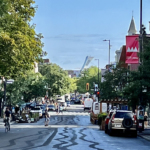 As you walk down the street, depending on the direction, you will either see Mount Royal approaching, or the Olympic Stadium tower!
Rue Saint Denis 
Undoubtedly one of the most pleasant arteries to walk in Montreal, Saint-Denis Street is lined with shops, cafes, restaurants, bars and bookstores.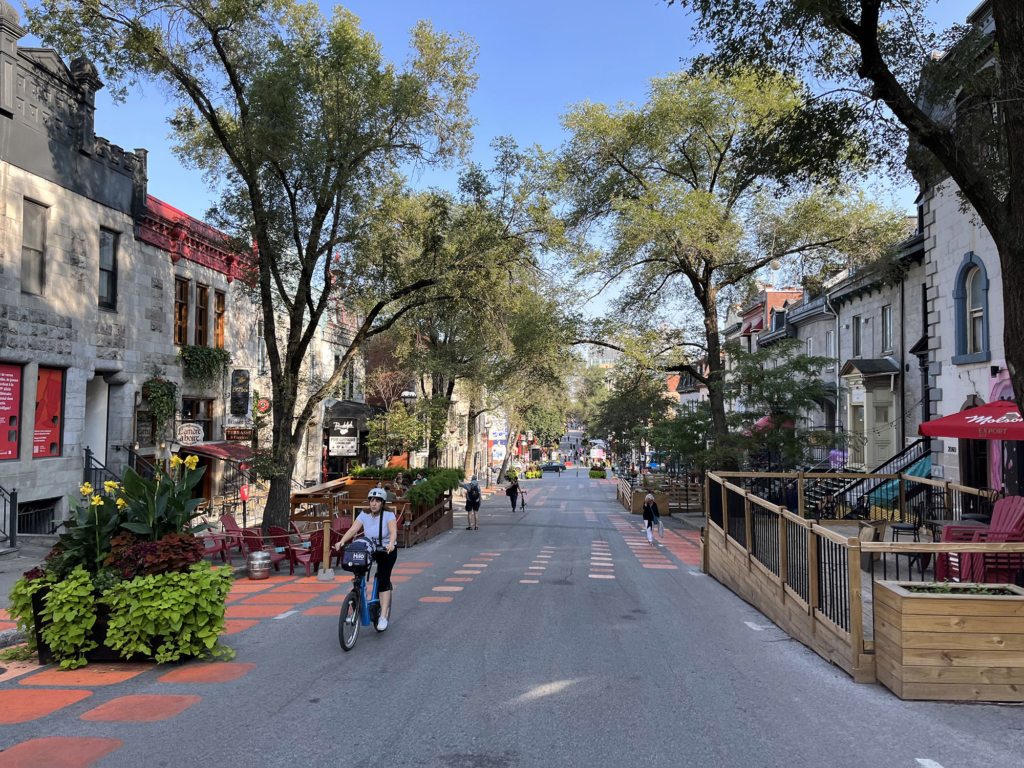 Long without ever being monotonous, beautiful and lively, rue Saint-Denis winds down almost effortlessly if you head towards the Saint-Laurent. In any case, if you want to cover it in its entirety, know that it is 11 km long.
Sainte-Catherine Street
Main commercial artery of Montreal, rue Sainte-Catherine extends over 11 km like rue Saint Denis. Very lively at any time of the day or night, this street is where people come to shop, have fun, eat or simply stroll.
This street is part of the Quartier des Spectacles and the Place des Arts, which are very lively during festivals.
You will also find in this street the "Gay Village" (gay district of Montreal), with in particular its very lively karaoke bars every evening.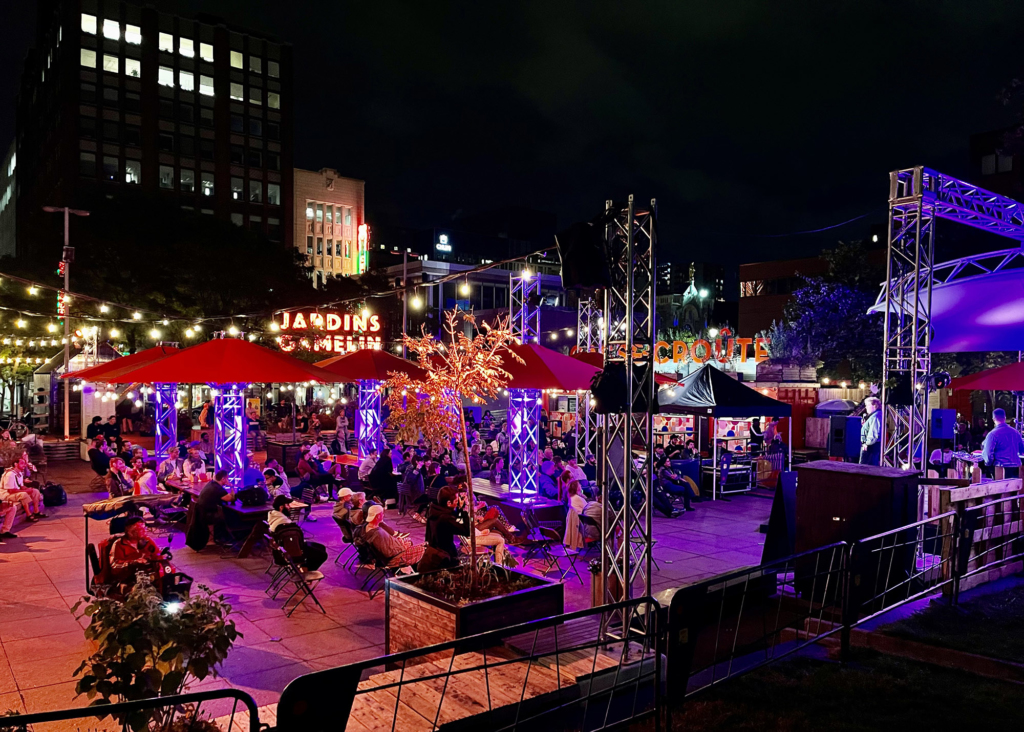 Boulevard Saint-Laurent
It is one of the trendiest areas of Montreal, thanks to its many restaurants, its designers, its boutiques, its bars and its nightclubs with colorful facades. You will also find a lot of Street Art in this street!
Want to eat at Celine Dion's restaurant? It's possible ! Céline and René bought part of the Schwartz restaurant in 2012, you can enjoy very good smoked meat sandwiches there, as they liked to do…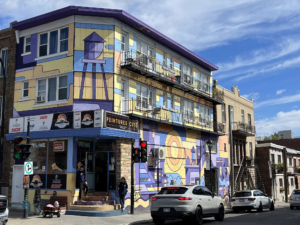 Peel Street
In this street, you will find the department stores and shopping centers: Simone, Place Montréal Trust, Eaton's… And all the underground part for the harsh winter periods!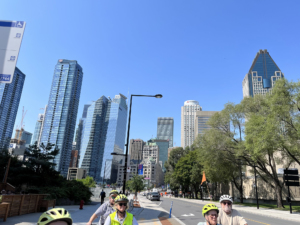 8 – Jean Talon Market
Open all year round, without interruption since 1933, the Jean-Talon market is one of the many infrastructure projects launched by the Canadian government to provide work for the unemployed during the Great Depression.
It is located in the district of Little Italy.
Today, it is one of the largest open-air markets in North America. It really is a colourful, pleasant and lively place, so even if it is just to visit it "as a tourist", it is worth the trip.
If you want to make purchases and culinary discoveries there, it is renowned for offering excellent value for money.
Fresh fruits and vegetables, flowers and seeds, maple products are the main products found there, with also butchers, fishmongers, bakeries and specialty shops offering spices, oils, cheeses, desserts…
It is the ideal place for locals or even tourists who are committed to providing themselves with fresh and local products.
There are also products from all over the world, for example I enjoyed tasting the specialties of Syrian cuisine offered by "Les filles fattoush": hummus, babbaghanouj, mouhamara, and pita chips.
If you like markets, you can also go to the Atwater market, which is a bit smaller, less popular and more expensive than the Jean Talon market.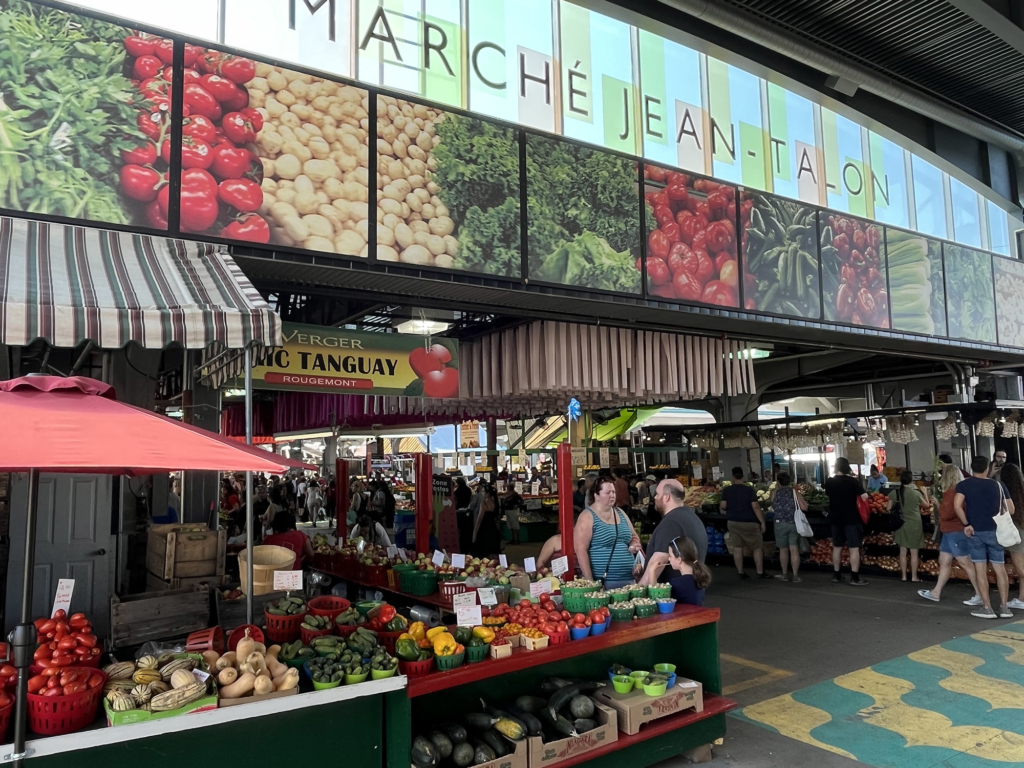 9 – McGill University
There are 7 universities in Montreal, the main ones, but also the most visible if you travel around the city, are :
McGill University
Montreal University
University of Quebec in Montreal – UQAM
The campuses of these universities are really integrated into the city, the students share living spaces such as bars and restaurants with locals and tourists, they are not isolated in their university.
The most impressive and interesting university to visit (from the outside anyway) is McGill University.
It is an English-speaking institution, reputed to be the best university in Canada. It ranked in the top 30 universities in the world in 2019.
McGill University's alumni include 12 Nobel Prize winners, three astronauts, three Canadian Prime Ministers, 13 Supreme Court of Canada justices, four foreign leaders, 28 foreign ambassadors, nine Academy Award winners, eleven Grammy Award winners, three Pulitzer Prize winners and 28 Olympic medalists!
His story as told by the guide with whom I did a historic "bike tour" of Montreal is very surprising.
James McGill (1744–1813) was a wealthy fur trader who wanted to develop Montreal. He agreed to bequeath land to the town (at the site of the current university) and £10,000 on the condition that a university would be built on the site of the land within 10 years, and that it would bear her name.
If these conditions were not met, everything would go to his widow… But McGill University opened its doors in 1921, 8 years after the death of James McGill!
Its campus extends to more than 80 buildings, of a rather heterogeneous architecture: Art Deco, neo-Gothic, classical style.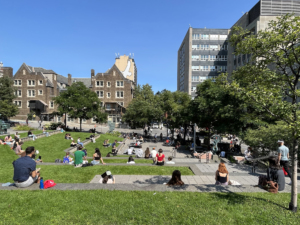 For tourists, in addition to strolling around the campus full of students revising in a green setting, you will find several museums, including:
The Redpath Museum of Natural History (I couldn't visit it, it was closed)
The McCord Stewart Museum: a museum whose mission is to be a guardian of heritage and a research and teaching environment dedicated to the preservation, study, outreach and knowledge of Canadian history. There is an exhibition and permanent collection related to the First Nations (or natives). It is quite impressive to see through photos and video testimonies what these peoples have suffered in the name of colonialism and the evangelization of peoples. We can really talk about cultural genocide… This was the subject of an official apology by the Catholic Church in 2021 (see https://information.tv5monde.com/info/canada-l-eglise-catholique-presente-ses -official-apology-to-indigenous-peoples-425857)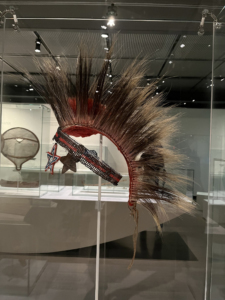 10 – Underground city (RÉSO)
Montreal is a very pleasant city in summer, but very harsh in winter! 2-3m of snow is not unusual. The city spends more than 190 million euros a year to clear the city of snow.
To be able to have a "warm" life, do your shopping, eat, have a social life… Montreal has developed a real underground city: today the largest in the world!
This allows access to the various places of life, on foot via a pedestrian circuit of more than 30km, of which here is the plan.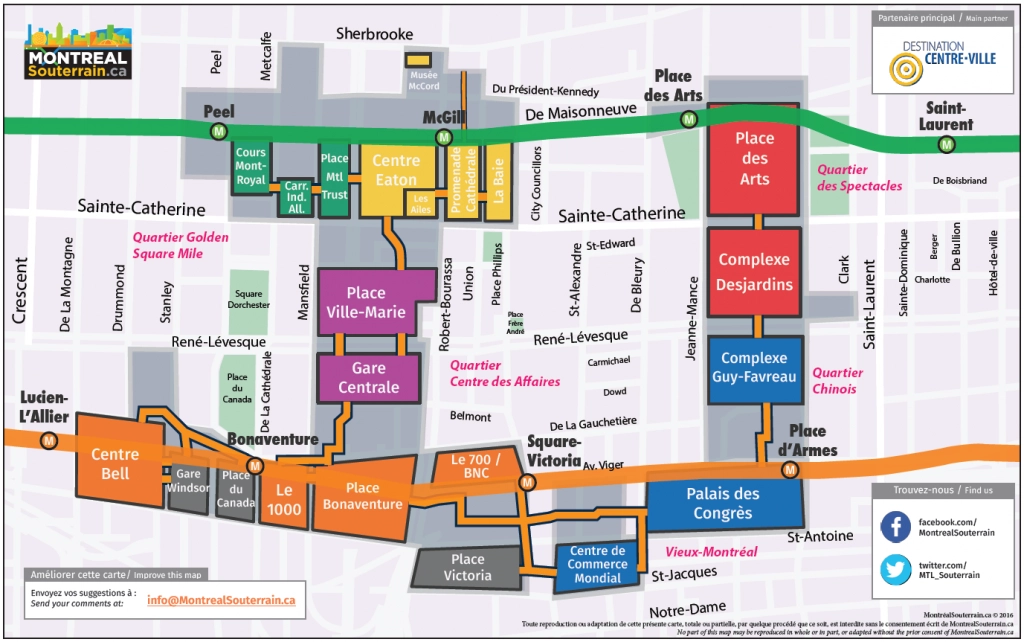 The city's various giant shopping centers, restaurants, cinemas, hotels, performance halls (e.g. convention center, Bell Centre), stations, squares (e.g. place des arts, des spectacles, etc.) as well as offices are thus connected. companies located in the various towers of the city.
This underground network (RÉSO) began with the inauguration of Place Ville Marie in 1962, with its shopping arcade in the basement. This network then expanded with the arrival of the metro and the construction of giant towers in the city center (example: Complexe Desjardins).
I was able to take advantage of this underground network on a fairly intense rainy day, the only one in two weeks in September 2022.
Note that in various places, you will find huge food courts, allowing you to taste different types of cuisine, while eating in a giant common area. I love this type of place whether it's digital nomad mode (I wrote most of this article in this type of place!), or between friends (everyone takes what they want and meet together).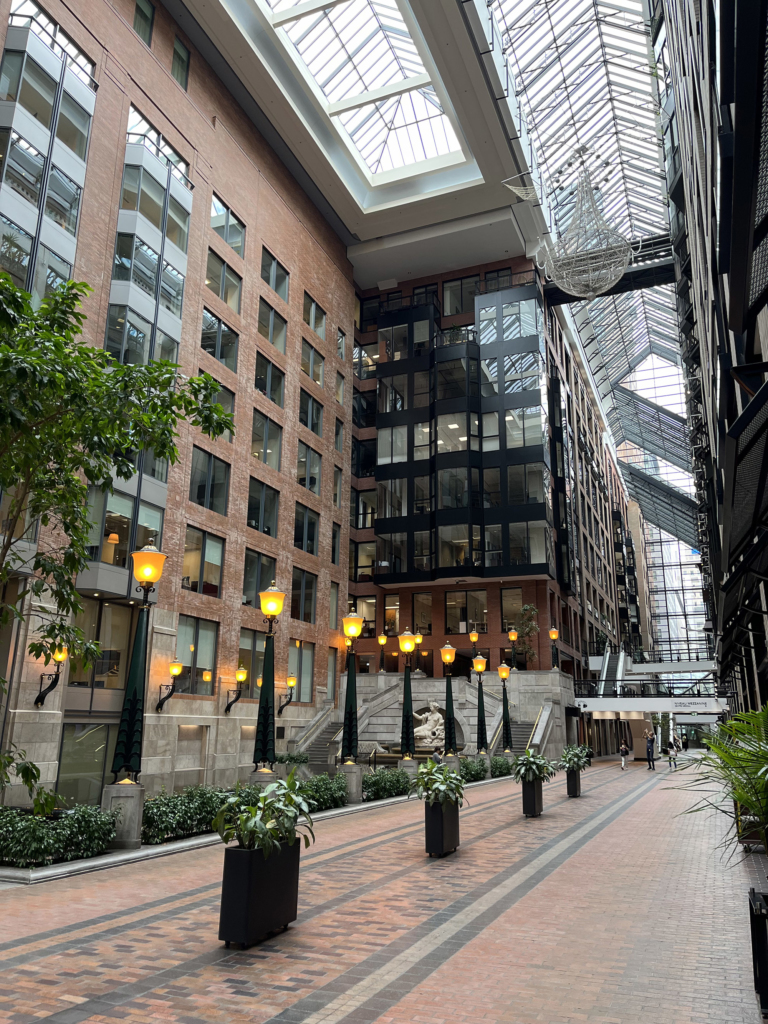 My favorite food courts in Montreal: Times out market, Le central, Complexe Desjardins food court. I couldn't try the one in the newly renovated "Place Ville-Marie" shopping center but locals told me it was the best !
If you haven't read it yet, find here the first part of this Top 10 places to visit in Montreal.